Environ
Environ is a globally recognised and loved Professional Skin Care brand that is built on science,
beauty and care, achieving results with DF machine.
South African Brand, with Vitamin A

Aspect
Aspect offers 3 different ranges; Aspect, Aspect GOLD and Teen Aspect. An amazing product that has been expertly engineered with the latest cutting edge with pure actives from medical science and nature to protect, nurture and revitalise your skin.
Cosmedix
Cosmedix Clinical skincare and Elite Clinical Cosmedix creates real skin change by combining science with pure botanical ingredients. The gentle and effective formulas give you transformative results without irritation, results driven skincare.

 Morrocan Tan
Morrocan Tan – Pure argon oil, a natural product enriched with vitamins that can be found in Southwest Moroccon, Pure argon oil restores skins moisture to a more beautiful skin. Deep ash browns and rich bronzers adapt to the individuals skin tone ensuring each and every morrocan tan is a perfect natural bronzer, with lasting results

Jane Iredale
Mineral Makeup by Jane Iredale is so beneficial for the skin it is recommended for purchase by plastic surgeons and dermatologists all over the world. It is made from all natural ingredients and does not contain paraben or phalates. Jane Iredale mineral makeup will not clog pores and has virtually no allergy risks. The makeup offers full spectrum sun protection from both UVA and UVB rays at an SPF of 30. Jane Iredale has anti inflammatory properties that help calm and soothe irritated skin and offers enough coverage to conceal acne and rosacea without further aggravating the condition. Jane Iredale never tests on animals either.

Lilash
Fabulous Lashes, Eyelash extensions, light weight silk fibres designed to look just like natural lashes. Available in a huge range of lengths, thicknesses and curls.soft and flexible you wont even know you are wearing them. They are expertly bonded individually on a lash by lash basis to your natural lashes.

Dermatech
New Zealand made, using natural products, AHA's and natural fruit acids on the skin, achieving results to the next layer of the skin.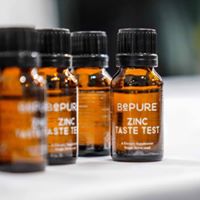 Be Pure Vitamins
High strength, high quality, bioavailable nutritional support designed by leading clinic nutritionist Ben Warren. Supporting all your nutritional needs, including multivitamins, omega 3 fish oil, gut health probiotics, vitamin c, adrenal support and more.